Mount Dora Vinyl Installation
Vinyl is one of the best floor options out there, especially for those looking for great deals at affordable prices.
Vinyl floors get the durability and water-resistance of high-end floor products without an expensive budget. The best part is, vinyl floors are incredibly versatile in design. Their look comes from printed technology, allowing them to come virtually in any design you want, including the look of expensive floor types like hardwood and stone.
To maximize the potential benefits of vinyl floors, you need a professional floor installer, and Orlando Flooring Company is the best floor construction company in Mount Dora. We are dedicated to bringing only the highest quality of service to our clients.
If you want perfectly installed vinyl sheets or tiles, then you came to the right place. Call Orlando Flooring Company today and get perfect vinyl flooring for your home or business establishment as soon as possible.
Call Orlando Flooring Company at (407) 890-1418 for your Free Consultation!
Trusted Mount Dora Vinyl Installers
Vinyl is a lightweight material that is easy to handle, transport, install, maintain, and preserve. It is so easy to work with that it's one of the most common floor materials used for DIY projects. However, it pays to have a trusted vinyl floor installer.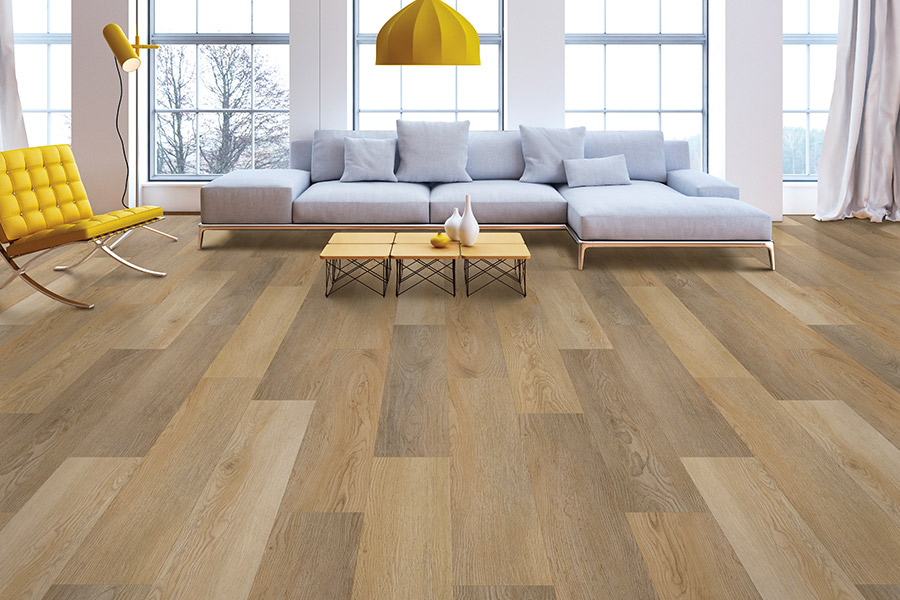 A professional installer can significantly decrease the possibility of installation errors and imperfections of your vinyl floors. Our floor construction experts have years of experience in managing and resolving installation mishaps. We are fully equipped to ensure that these errors are kept at zero to a minimum level; we can easily provide free repairs, replacements, and re-installation services as needed.
Ultimately, proper installation can substantially reduce future demands for repair and refurbishment. You won't need to worry about getting premature folds, dents, or bubbles if a trained and seasoned floor expert installs your vinyl floors.
Here are the common errors of DIY vinyl installation that can be avoided if you partner with Orlando Flooring Company.
Choosing the wrong subfloor.
A subfloor that does not properly support or match the floor surface may cause grave problems. Vinyl flooring is relatively soft compared with other sturdier materials. Placing vinyl tiles or planks on a subfloor that isn't solid enough can cause the floor to easily succumb to traffic and be damaged by heavy objects. This will give you a lot of dents and bent tiles.
Failing to moderate the humidity of the room.
Temperature and humidity have a significant effect on vinyl sheets. When installing vinyl sheets, it is important to regulate the moisture level of the room. Failing to do so may lead to curling, cupping, peaking, warping of materials, and even growth of molds. These imperfections are noticeable issues to your supposedly perfect vinyl floors. They can lead to bigger problems and decrease the general quality and longevity of your flooring.
On the other hand, a trusted floor specialist can provide great advice for decision-making and an expert installer knows the workaround of vinyl flooring. We recommend better options in design and vinyl types. At the same time, you can just sit back and relax as our professional installers tackle the flooring project for you.
At Orlando Flooring Company, we are not only concerned with following our client's requests but also dedicated to ensuring that what they choose will satisfy their needs and preferences in the long run. To do so, we engage in close discussions with our customers, recommending the best flooring solutions that best suit their application. We provide what is best for you.
So what are you waiting for? Partner now with Orlando Flooring Company, the best Mount Dora, FL floor construction company. We are passionate about meeting your needs and satisfying your goals. You can trust that we will install your vinyl floors at the highest possible quality of service.
Best Mount Dora Vinyl Installers
You can trust Orlando Flooring Company with installing your vinyl floors because we are the leading Mount Dora floor construction company. We have been serving people and satisfying their floor needs for many years. We are equipped to do all the necessary services in working with all floor types in all kinds of spaces.
Aside from stellar floor installation services, our team of seasoned floor specialists can handle the flooring design, production, printing, repair, renovation, maintenance, handyman work, as well as the customer and consultation services for our clients.
If you have flooring needs, the best thing to do is call Orlando Flooring Company. We deliver our flooring services fast and flawlessly at the fairest rates in the market.
Free Consultation on Vinyl Installation
If you have questions, clarifications, or interests in our installation services, feel free to talk to us. Orlando Flooring Company offers a free consultation to clients and an ocular inspection at site locations to make sure that we recommend and provide the best flooring solutions. We are looking forward to working with you!
Call Orlando Flooring Company at (407) 890-1418 for your Free Consultation!