Mid Florida Vinyl Flooring
Whether you are considering renovating a home or office space, updating your flooring is a great way to make a big impact. There are many different flooring options available, providing various benefits and associated costs. If you are looking for a high-value, high-impact flooring solution, trust the Mid Florida vinyl flooring experts at Orlando Flooring Company to deliver luxury vinyl floors that suit your needs and space.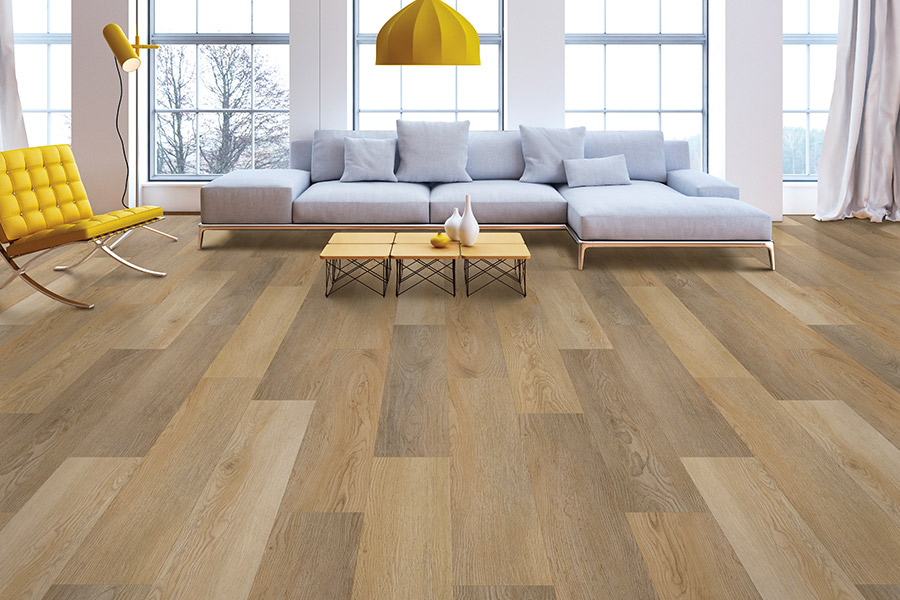 Luxury vinyl floors are ideal because they can give you the image you want for your space without it costing you a lot of money. Many homes and even some offices have vinyl floors to add a classic style and broad appeal to their space. Vinyl floors are now made with top-notch quality, which is why many people are now using them over other alternatives.
Orlando Flooring Company knows how important your floors are for the functionality and aesthetics of your space, and we help you select the best options available. We not only provide the luxury vinyl flooring product itself in a variety of sizes, colors, and styles; we also provide complete installation and finishing services for maximum impact and appeal.
Call Orlando Flooring Company today at (407) 890-1418 for a Free Consultation!
What is Luxury Vinyl Flooring?
Luxury vinyl flooring or vinyl floors are made from durable and flexible PVC, foam gel, and urethane material that allows them to mimic natural materials like tile and wood. Thanks to these long-lasting and highly customizable materials, vinyl floors are durable to use and provide the same effect as natural flooring alternatives at a much more reasonable price.
When you reach out to the Mid Florida luxury vinyl flooring company at Orlando Flooring Company, we will sit down with you to explain how luxury vinyl flooring can benefit your space. We will also explain how the installation process works and how these floors can be maintained or repaired. We can also provide different flooring samples so you can see how the different floor products will look in your unique space, making it easy for you to select the ideal floors.
Benefits of Vinyl Floors
There are many great benefits to using vinyl floors for any room or space. First, they are very durable to use because they are made from PVC, urethane, and foam, which are very hard to damage. Even if you use them in high traffic areas, these floors won't get damaged easily.
You can also get a lot of vinyl floors in various designs. From natural to customized designs, you can get luxury vinyl that will fit your needs. They are also a very low maintenance flooring option, making them easy to clean. Thanks to the fact that they are available in various designs and made from inexpensive materials, it's very affordable to purchase either standard or luxury vinyl flooring. As a result, you can get a lot of areas covered with new luxury vinyl floors.
If you do not know what type of luxury vinyl flooring works for your needs, our Mid Florida vinyl flooring experts here at Orlando Flooring Company can help you get the ideal flooring for your space.
Luxury Flooring For Every Room
Every space needs flooring that will complement the entire area. With luxury vinyl floors, you can make sure that the space's overall look blends perfectly wherever you turn your eyes to. They are also more stylish and affordable than other luxury flooring types in the market.
Kitchens will benefit from luxury vinyl floors, especially if they have waterproof features. Aside from giving your kitchen a welcoming ambiance, they won't get damaged easily and can be replaced when needed. Bathrooms will also benefit from waterproof luxury vinyl floors because you can get them to look like porcelain and clean them easily.
Other areas where you can use luxury vinyl flooring include dining, living, and bedrooms. Areas with heavy activity will also benefit from luxury vinyl floors because of their easy-to-maintain features and durability. If you are uncertain which types of luxury vinyl floors will work for your space, let our team know, and we can fully explain the benefits of the various flooring products we provide.
Professional Vinyl Floor Installation
Our vinyl can be installed in any area of your home or business space, from places that are high traffic such as kitchens, bathrooms, offices, and entryways to where there is very low traffic like closets, guest rooms, and storage areas. Also, our wide variety of luxury vinyl floors have everything from modern flooring designs to the more traditional styles that mimic natural materials, like wood or stone.
Our Mid Florida, FL vinyl flooring contractors handle everything with the process of preparation, installation, and even cleaning up after leaving. We make sure we understand your space, desires, and intended finished look, in order to make smart recommendations and to deliver installed flooring that is perfectly suited to you.
Best Luxury Vinyl Flooring Services
As your Mid Florida vinyl flooring experts, you can trust our professionals to provide high-quality, long-lasting, attractive, and affordable flooring that is perfectly suited to every room in your home. Orlando Flooring Company can deliver the right vinyl flooring and the friendly service that you deserve.
We are excited to work as your chosen Mid Florida vinyl floor installation partner! We are available for in-home consultations.
Call Orlando Flooring Company at (407) 890-1418 for a Free Consultation & Estimate!