Apopka Laminate Flooring
When it comes to updating your floors, laminate floors are a durable, attractive, and affordable option. Your Apopka laminate flooring company, we provide high-quality laminate floor products and installation so you can be confident your floors will be appealing and long-lasting.
Laminate floors are very flexible and easy to install. They work for both home and business spaces and are available in various styles and colors. They are attractive and durable, made from high-quality plastic and melamine that is resistant to moisture and suitable for application in many different areas of your home or business.
Our Apopka laminate flooring company can identify which laminate floors work for your space and install them quickly and professionally. We work with your budget, needs, and desires to determine the ideal flooring product and style to suit you.
Call Orlando Flooring Company at (407) 890-1418 for a Free Consultation & Estimate!
Why Laminate Flooring is Your Best Option
Laminate floors are often preferred by many contractors as the best type of flooring to use for spaces that need easy-to-install floors. They are inexpensive and can come in various designs to fit any space imaginable.
This flooring type is also made to be durable and protect the surface where they are installed in. Each laminate floorboard consists of four layers:
1. Backing Layer – Handles any moisture that will be spilled into the floor and balances out the laminate floors when they are installed on the surface.
2. Core layer – Made from high-density fiberboard that protects the floor from both moisture and other damage
3. Pattern layer – Enhances the natural design and color of the laminate flooring.
4. Wear layer – Protects the floor from wear and tear. It also comes with an aluminum oxide coat for a better finish.
Here at Orlando Flooring Company, our Apopka laminate flooring experts believe that your floors should be carefully selected and professionally installed to make sure they last a lifetime. We will go beyond your requirements and make sure that the floors we pick for you are perfect without going over the budget. For laminate floorings, we can even customize them for you.
Laminate Flooring Installation
As your full-service, dedicated, and motivated Apopka laminate flooring company, our experts will support you during your entire residential or commercial flooring project.
Installing laminate flooring is very easy. You need to clean the area where you plan to install the floors before you put down the underlayments that will serve as the foundation and sound barrier of the flooring. Laminate floors work well in concrete, tile, vinyl, and plywood surfaces, which is why they can be used for either home or business spaces.
Users do have the option to install their laminate floors with or without glue. There are laminate floors that are glueless, and you only have to snap them together to form the panels. Glued panels, meanwhile, will prevent moisture from seeping into the surface and affecting the integrity of the entire surface.
If you don't have the tools, skills, or time to install them yourself, or if you want to make sure they will be done properly, contact our team anytime. We can go to your location no matter where you are in Apopka, FL and handle the installation perfectly.
Laminate Floor Care & Maintenance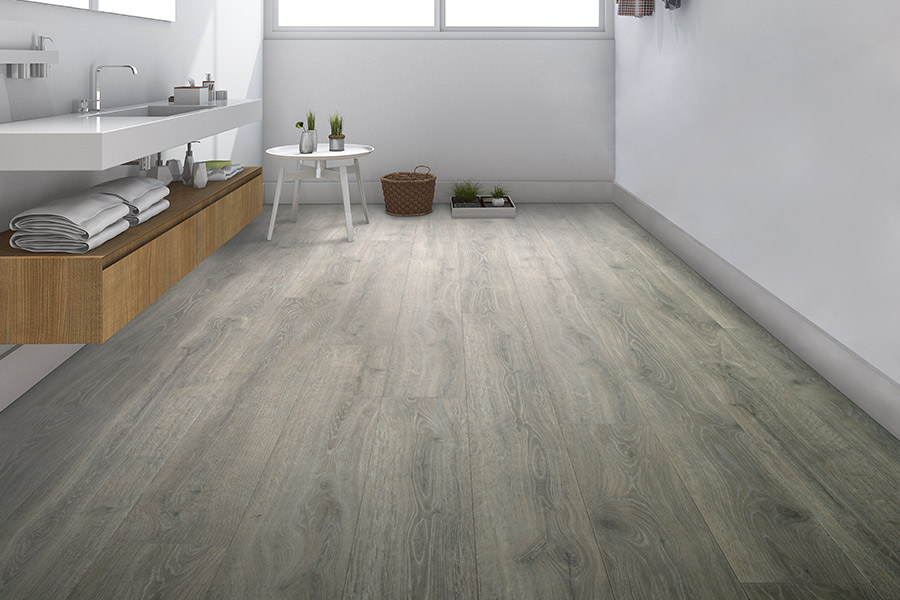 Thanks to their unique design, laminate floors are very easy to maintain and won't need replacing for several years. Normally, you can clean your laminate floors with a mop, water, sponge, or special laminate floor cleaners.
If there are no wet areas on the floor, you can use a dry mop to clean any loose dirt or use a vacuum to clean the crevices. Make sure that you monitor where you vacuum your laminate floors because it may end up removing the protective layer of your flooring. Once the loose dirt is cleaned, you can use laminate floor cleaners to clean the rest of the floors. Make sure to use the right amount of cleaner to prevent any accidents from occurring.
With proper cleaning and maintenance, you can enjoy your laminate floors for a long time.
Best Laminate Flooring Services
Our Apopka flooring company, Orlando Flooring Company, is dedicated to providing high-quality, attractive, and affordable laminate floors that meet your needs while perfectly suiting your space. We can help you pick the best laminate flooring for your space and guarantee that you will be able to get them at the best rates. Once we install your selected flooring, you can fully enjoy the benefits of new, durable laminate flooring that is long-lasting and cohesive.
Call Orlando Flooring Company at (407) 890-1418 for a Free Consultation & Estimate!